We'll bring your old pool back to life! Call us today directly on 0459 779 942 or book online.
Request a FREE quote or Call us on 0459 779 942
We can resurface all types of pool including liners, epoxy finish and pool tiling that come with 8 to 12 years warranty. 15 years experience.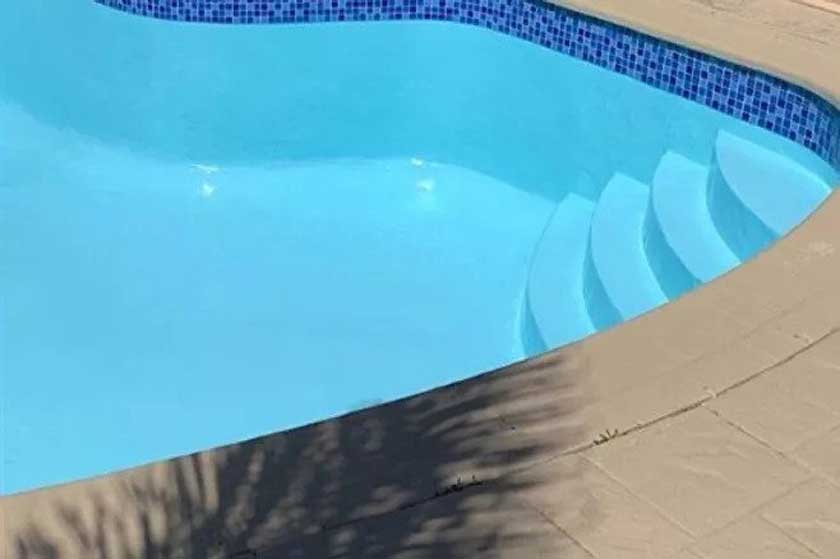 SEVEN GREAT REASONS TO USE EPOXY PAINT
Save Thousands: You can get excellent results with a durable, decorative Epoxy Pool Paint at much lower cost. Pool renovation is now easier and even touch-up repairs at any stage is easy and at a fraction of the cost compared to other lining options. Our Pool Paint solution can save you even more!
Proven Results: We believe in our Epoxy Pool Paint! Our products have had extensive UV testing and were designed specifically for the harsh Australian sun. Come and talk to us so we can show you the results.
100% Resistance Against Algae Stains: Algae won't cling to this enamel, gloss pool paint. Algae growth is drastically reduced. The water can be kept clear and blue with less effort.
Pool Maintenance Is Now Easier Than Ever: Normal chlorine based swimming pool chemicals, pool acids and recommended products can be added directly into the pool without the fear of staining the epoxy paint layer.
Save 50%-70% On Chemicals: Maintenance is a breeze with an epoxy-coated swimming pool. Many clients have reported a 50% saving on chemicals and pool maintenance costs. Our product can be used in conjunction with salt chlorinators set to the minimum required dosage.
A Beautiful Sparkling Pool For Many Fun Filled Summers: The expected lifetime of our pool paint epoxy is 8-10 years under well-maintained water conditions. Under more severe conditions the lifespan can be expected to be reduced to 5 or 6 years. Touching up is cost-effective; when the paint layer starts to wear thin, re-applying two new top-coat layers is quick and easy.

No More Bleeding Toes: Have you experienced those bleeding toes after hours of playing in a quartz-plastered swimming pool? You can now relax and play all day with this smooth, gloss epoxy pool paint system.
Jean and his team have patiently worked with us for nearly a year with all kinds of challenges (covid lockdowns, shortage of material unavailability of contractors etc.) to bring to life our beautiful pool in the hills of Belgrave Heights. Apart from a sleek contemporary design, we also wanted a technically advanced, well heated and low maintenance pool and that's what we got. I am very grateful to Jean and his team for his guidance, patience and focus on our project - many thanks!

Spiro Lecatsas


4/18/2021

Excellent job done on a replacement liner for my pool, and fixed a leaking pipe at the same time. Highly recommend this service.

Tina Whitehead


4/05/2021

I've recently hired Blue pool and spas to build my new pool in my brand new house and they delivered an outstanding service 👏 i couldn't be happier with their work, the pool was delivered on time and definitely meet my expectations! Thanks Jean and kazem for your hard work, and make sure you were delivering my dream pool !

William Head


10/29/2020

I recently used Blue Pools and Spas to reline my pool. Jean and Kaz did a fantastic job. Jean was responsive and even brokered the sale of my old wedding cake steps to another client he had helped recently. I highly recommend Jean and Kaz. Thanks guys!

David Miller


10/29/2020

From the first call with Jean I was impressed by with his knowledge and his friendly manner. We received a detailed and prompt quote and are so happy with the new equipment. We were very impressed with the service and peace of mind provided on the install day by Blue Pools and Spas. From arriving as scheduled to giving us a thorough briefing on the equipment, the process was stress free and fast. Thanks so much for giving us confidence in the high quality pump, chlorinator and filter system and the results are, as Jean promised, already changing our lives 😊. Highly recommend.

Sacha Brennan


10/01/2020

Very professional and reliable service. Would not hesitate to use again or recommend.

Richard Witts


7/17/2020